Vibraphones
Concert
Adams Concert Vibraphones feature precision graduated bars in either Anodized Silver or Gold, along with the durability and stability players demand in the studio and in the clubs.
The Concert Series Vibe is available with either the Voyager or Endurance Field Frame and features black tolex covered rails and end caps, making a distinct impression on stage or in the home. The instrument's 12-volt motor runs safely on 110 or 220-volt power with the special converting power adaptor, completely eliminating the possibility of any electrical hazard. Clean mounted controls allow the player to choose whether the fans stop in either the open or closed position. The motor speed is fully adjustable from 25 to 150 rpm with intuitive fader control.
A newly advanced, foot-operated precision dampening mechanism allows both damper and rail height adjustments, allowing each player to custom configure the feel of the instrument to their exact playing style. The damper also utilizes a new supreme quality felt material to achieve truly silent damping. An optional Long Pedal Extension Accessory converts the swivel pedal to a full-length pedal board.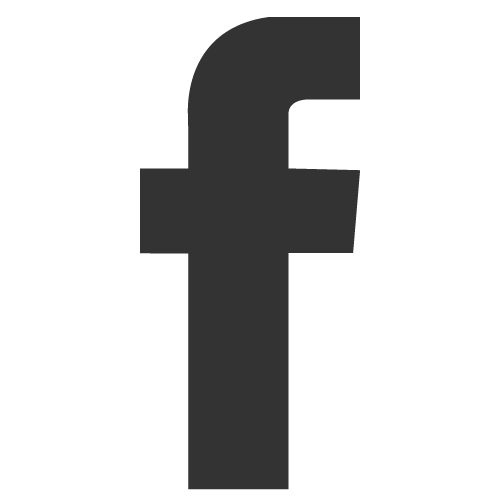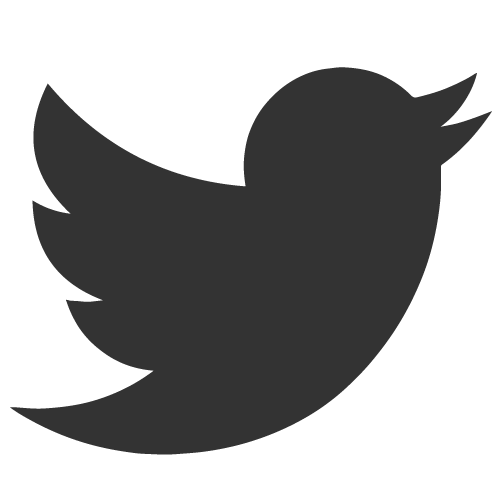 Concert Series Vibraphone
Model Numbers

VCSV

VCSF

VCGV

VCGF
BARS

Gold, Silver Aluminum
FRAME

Voyager Frame, Endurance Field Frame
RAILS & END CAPS

Solid oak rails and Mahogany end caps covered in Black Tolex
RESONATORS

Silver or Gold power-coat finish
MOTOR

Silent Drive Motor System
FAN

Patented Adjustable Fan System
DAMPER

Silent Dampening System
OCTAVES

3.0
ACCESSORIES

Short protective drop cover, 2 pairs of mallets included
Features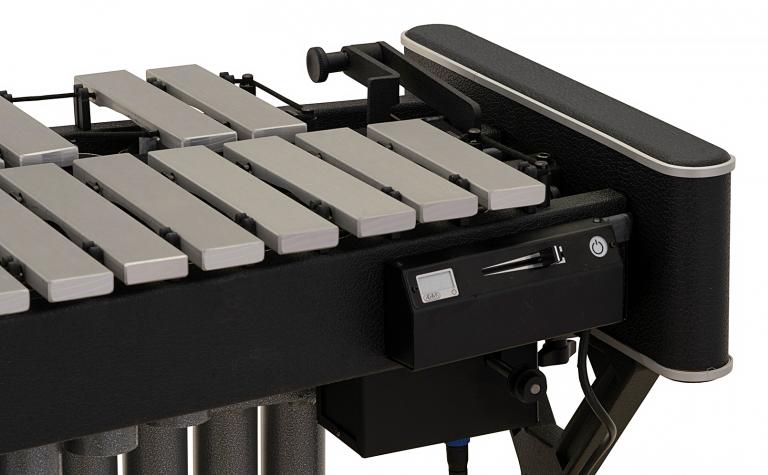 The Concert Series motor control panel is conveniently located on the rail closest to the player for quick access, offering adjustment between 40-140 RPM via the easy to read digital display panel.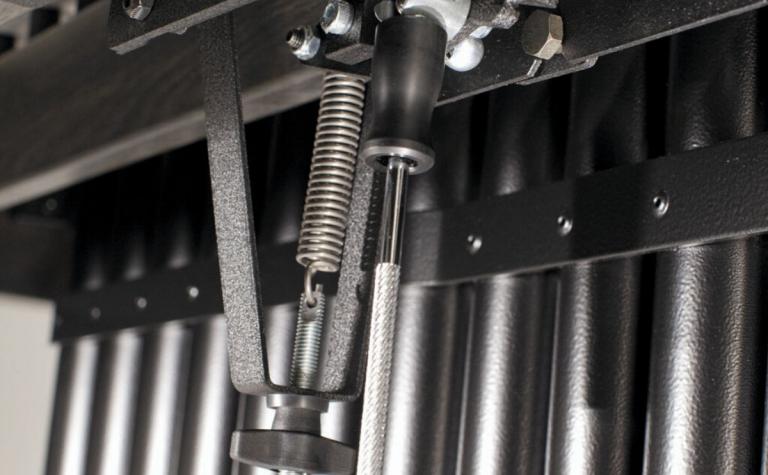 Adjustable Tension Spring
Adjustable Tension Spring Mechanism allows pedal response adjustment independent from tone bar pressure.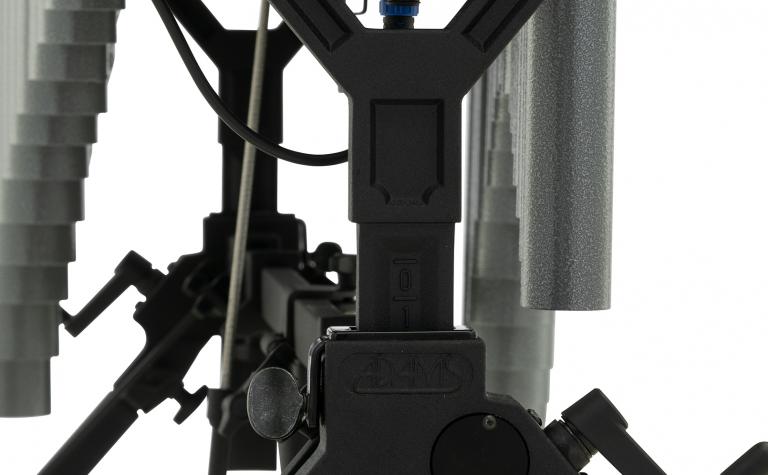 Voyager Height Adjustment
The renowned Adams Voyager Height Adjustment System allows you to effortlessly adjust the playing height of the instrument to fit any size player.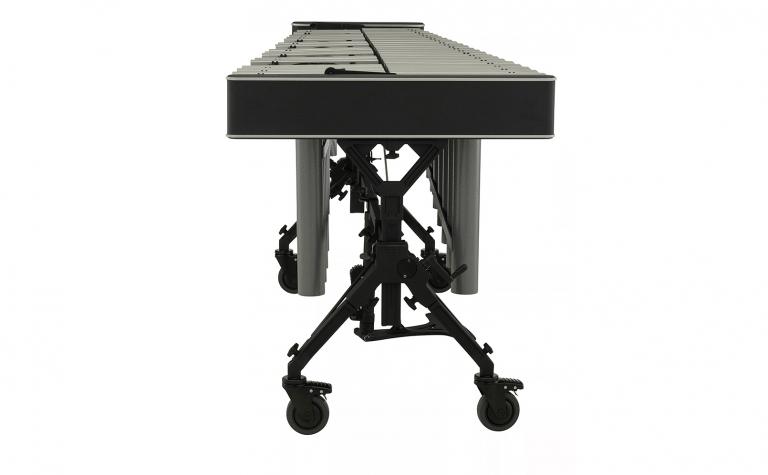 Solid Oak Rails & Mahogany End Caps
The Adams Concert Vibraphone features solid oak rails and Mahogany end caps covered in Black Tolex for a durable and polished look.
CONFIGURATIONS
The VCSF30 and VCGF30 have all the specs of the VCSF30M and VCGF30M but without a motor to reduce weight and includes the Endurance Field Frame and Grey or Gold powder-coated resonators.
| Model Number | Bars | Frame | Tuning | Range | Bar Width | Low End | High End | Height Adj. | Weight | Motor |
| --- | --- | --- | --- | --- | --- | --- | --- | --- | --- | --- |
| VCSV30M | Silver | Voyager Frame | A=442 Hz | F3 - F6 | 2.3" - 1.5" | 30" | 16" | 34" – 41" | 100 lbs. | 12v variable speed 25-150rpm |
| VCSF30M | Silver | Field Frame | A=442 Hz | F3 - F6 | 2.3" - 1.5" | 35.6" | 22.4" | 35.2" – 41.6" | 132 lbs. | 12v variable speed 25-150rpm |
| VCSF30 | Silver | Field Frame | A=442 Hz | F3 - F6 | 2.3" - 1.5" | 35.6" | 22.4" | 35.2" – 41.6" | 132 lbs. | None |
| VCGV30M | Gold | Voyager Frame | A=442 Hz | F3 - F6 | 2.3" - 1.5" | 30" | 16" | 34" – 41" | 100 lbs. | 12v variable speed 25-150rpm |
| VCGF30M | Gold | Field Frame | A=442 Hz | F3 - F6 | 2.3" - 1.5" | 35.6" | 22.4" | 35.2" – 41.6" | 132 lbs. | 12v variable speed 25-150rpm |
| VCGF30 | Gold | Field Frame | A=442 Hz | F3 - F6 | 2.3" - 1.5" | 35.6" | 22.4" | 35.2" – 41.6" | 132 lbs. | None |